Not too long ago I took the plunge into the world of crypto casino. This is a learning curve for me, but one that has been of interest so far. I intend to share my findings both good and bad on this page as I progress.
Note – see section on VPN below before clicking the links – this will ensure the full functionality of the site is available
BC Game - Casino300% bonus on your first deposit

Plus additional bonuses as you play

Claim

18+ New players only. Make a valid deposit and automatically receive the deposit bonus in BCD. This BCD will be locked and can be unlocked by wagering on any of the games available on the platform. Wager amount x 1% x 20% to unlock the bonus. Example: Wager $500 on any of our games it will unlock 500x1%x20% = 1 BCD. Full T&Cs apply, see BC.Game website for full details.
For the time being, I have signed up at BC Game. I put a lot of work into choosing this site from the many available, and believe that I can trust them for my online play. I want to continue to make quality content for you subscribers to enjoy, and playing here will help me do so.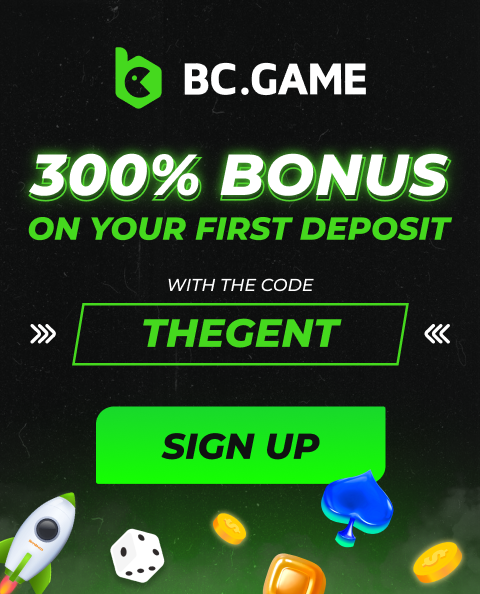 Everyone who plays at this site is given a referral link which you can share with other like minded players. Mine is THEGENT, and using it if you sign up at BC Game will help support the channel.
How to play at BC Game
The rest of this page is written from my own experience of setting up and account at BC Game, making a deposit and playing. How it behaves for others may vary.
Firstly, how the site behaves depends upon where you are connected from. To make the most of the site and use all the features such as autoplay, quick spins and bonus buys, you need to be in a location where these features are supported.
Connecting with a VPN
I have used a VPN for quite some time to protect my Internet connection from malicious traffic, particularly when out and about on unsecured wifi. The additional benefit of a VPN is that you can vary the country it connects to. I have been advised by others that they connect to BC Game via either Malta or Andorra, as this allows the full range of functionality.
Creating an account
Creating an account was straightforward. I simply gave an email address and password, accepted the T&Cs and verified my email address.
Making a deposit
I have managed to make my initial deposit using an online crypto wallet. The process was straightforward, but I am reviewing this to see if there is a better way. There certainly seem to be various ways of doing it, but I want to ensure I fully understand them before I explain any further.
As the funds you have deposited will initially be in a crypto currency, you might note that the exact amount of your balance is subject to fluctuations. My understanding is that if you deposit them as a "USDT tether coin" there will be barely be any volatility. This is because tether coins are pegged to the value of the dollar and therefore will not rise and fall as bitcoin might on a day to day basis. I believe there are other options here, and as above, I will review these in time.
Setting a default currency
At the top right of the casino site there is an icon representing the globe. If you click here, then on Fiat currency, you are able to select your preferred currency. This means the main balance and most (although not all) of the games will display in the denomination you require.
What to be aware of?
BC Game is Curacao licensed. When I choose to play at these sites I am doing so entirely at my own risk. I play for my own entertainment and you are free to enjoy the videos. If you want to play at BC Game yourself, ensure you familiarise yourself with all requirements, such as country restrictions and the requirements of the bonuses awarded on your deposits etc.
Nothing on this page is intended to constitute advice. You are reminded to thoroughly review all appropriate T&Cs and make your own decisions about where to play. Always gamble responsibly.